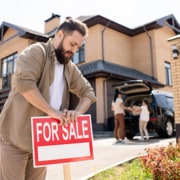 Improving your home's presentation should be the first thing a house on the market should attend to. You should start by finding a good agency. Any agent can tell you what price range your home falls under. Yet only the best agent can tell you what to expect of buyers in your particular market. Having said that, here are 5 ways to get started on preparing to sell your home.
1. Raise the Curb Appeal
Exteriors are the first experience potential buyers have with a house. Your house's exterior should therefore immediately create a good and welcoming ambience. Clear, paint, repair, mow and prune any damaged or unkept areas around the property. Ensure your front door is visible, accessible, and clutter free. Aim to give potential buyers a feeling of ease and comfort when approaching your home.
2. Deep Clean the Interiors
Cleanliness makes a home feel well taken care of, so deep cleaning can win points with buyers. Each room, cabinet and garage should be tidied up before showing. Ensure you have the right window treatments that enhance natural brightness. Ensure you have clean rugs and carpets with no sight of stains, dinginess or odors. If these seem daunting, a professional cleaning company can take care of it for you.
3. Repair the Broken Things
Repair or replace broken or outdated hardware in your home. Door handles, faucets, towel bars and curtain rods are fixtures that are visible to buyers. They can be fixed without much cost. Replace light fixtures that are broken or no longer fit your home. You can use light fixtures to draw attention to selling points, such as artworks or mantles.
4. Declutter your Home
Potential buyers should see clean, open spaces when they look at your home. This will enable them to imagine their own comfortable life in your home. Decluttering your home removes distractions and makes it easier for buyers to explore. Remove clutter such as litter boxes, pet dishes, toys, and kids' entertainment. Fresh, decorative flowers in the kitchen or on the dining room table are a welcome touch. However, ensure it is simple and cleanly decorated.
5. Paint With Neutral Colors
Painting is an affordable maintenance project with a high return on investment. Putting a fresh coat of paint on white or beige walls can do wonders in freshening your home and its appeal. Repaint walls that have unconventional colors. Neutral colors, such as taupe and subtle grey, are the best choices. This is because it is rare that someone doesn't like these colors. Additionally,  lingering paint smell can be avoided by painting a month before listing . So time your painting.
/
by support_8dba
https://titlepartnersfl.com/wp-content/uploads/2022/06/putting-house-up-for-sale-2021-09-24-03-20-18-utc.jpg
333
500
support_8dba
https://titlepartnersfl.com/wp-content/uploads/2016/02/Title-Partners-Final-logo-small-e1454711286626.png
support_8dba
2022-06-20 14:01:01
2022-06-30 14:01:14
5 THINGS TO DO BEFORE LISTING YOUR HOME FOR SALE